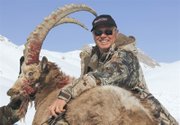 Offered a trip to go winter hunting in Kyrgyzstan, Gary Christensen tried to decline.
But a persistent effort got Christensen and his friend Greg McClure into the mountains of Kyrgyzstan to hunt for ibex. The story of the trip made members of Sunnyside's Noon Rotary Club question Christensen intensely.
In a rapid slideshow, Christensen told about his journey from the town of Naryn into the "death zone" of the mountains. The death zone is heights above 10,000 feet where the human body cannot bring in enough oxygen to sustain itself.
The hunters went by truck on a snowy road that turned into a track of packed snow and then eventually into a vast expanse with barely a trail to follow. Christensen told of repeated breakdowns and being run off the road by a Chinese truck going the opposite direction.
"We were stuck all the time," he said. "A one-day trip became three and a half days."
They were met about 5 kilometers from the hunting camp by the horsemen, who came looking for the group, then Christensen rode to the camp with fogged up glasses.
"As soon as I got out of the truck, my glasses frosted over like coke bottle bottoms," he said. "I couldn't stop and scrape the ice off."
Once at the camp he spent the night in a freezing shelter. The dung fuel for the fire didn't heat up the space because the stove was blocked.
Despite the problems, the day of hunting was fantastic. Christensen talked about the friendliness of the people, and the amazing landscape. He was able to find and shoot the ibex with the help of the hunters, who kept him aimed at the oldest members of the herd.
After his presentation, Christensen took a variety of questions from the group, including the only half-joking question of "Have you had your head examined?"