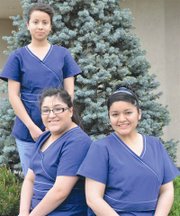 The seven young Sunnyside ladies enrolled in the morning YV-Tech nursing assistant program have formulated a two-pronged plan.
Their goal is to raise enough money during Sunnyside's annual Cinco de Mayo festivities to pay for a small graduation ceremony, as well as to make a contribution to the Lower Valley Crisis & Support Services center here in Sunnyside.
Spearheaded by the trio of Jessica Rodriguez, Nohely Hernandez and Michelle Pedroza, the YV-Tech nursing assistant students have secured a prime spot in downtown Sunnyside for this coming weekend's Cinco de Mayo celebration. At the corner of Sixth Street and Franklin Avenue, they'll have a dunking booth set up, as well as a canteen that will be offering chips, cookies, soda and bottled water.
"We're inviting everyone to try and dunk our hometown heroes," said Hernandez, explaining that local police officers, firefighters and teachers have agreed to take a spot on the dunking booth perch during the three-day festival.
Besides trying to raise enough money to pay for all the trappings of a graduation ceremony, the future nurse's assistants hope the community will support their cause so that they, in turn, can support the families who turn to the Lower Valley Crisis & Support Services center for help.
"Besides hoping to make a financial contribution to the center, we also want to volunteer some of our time there," said Pedroza.
Rodriguez said many volunteer opportunities exist at the center, and it is the YV-Tech students' desire to offer hands-on help.
"We're asking people to stop by our booth, to help us so we can help others in our community," said Rodriguez.
The seven YV-Tech students involved in this coming weekend's fundraiser all attend nursing assistant classes in the morning. Their day continues with regular classes at Sunnyside High School from 12:30 to 3 p.m.
Along with Hernandez, Pedroza and Rodriguez, the morning YV-Tech class is comprised of Dalia Sosa, Zulema Valencia, Teresa Garza and Yesenia Arispe.