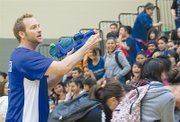 \Every day after school young John was beat up by a group of his peers.
He felt hopeless, with no fight left.
Finally, Kyle, a classmate ran to his aid, stopped the bullies, walked him home and befriended him. Kyle picked him up off the ground and introduced him to what he would forever call his new friends.
As the years went on, John became quite the successful high school student.
On graduation day, the valedictorian spoke about the day he met his new friend. He told his peers and community members, that afternoon he had planned to end his life. But what he didn't expect was for Kyle to take him under his wing and offer him back the hope that was once a foreign feeling.
He saved his life.
Letting go
Motivational speaker Aric Bostick says Sierra Vista Middle school students can, too, be the person to make a difference in someone's life.
The first step, the San Antonio, Texas native told the middle school students at this past Monday's school assembly, is to "let go."
Students were encouraged to let go of their story about why they can't succeed or what current life drama is holding them back from being themselves.
Bostick grew up with an alcoholic father and bi-polar mother. He came from the south-side of town, where families are commonly known to be poor and unsuccessful.
"I come from a broken family," he said. "But here's the good news, I'm not broken.
"It's about being the best you," he said. "These aren't reasons why you can't succeed; these are reasons why you should succeed."
Bostick told Sierra Vista students about his accomplishments, citing the inspiration from a small voice inside him saying, "step up and go for it.
"I took matters into my own hands," he said.
Scar tissue occurs on the skin after a cut or piercing is healed. The tissue is harder and tougher than the original skin, and according to Bostick, personal hardships are like scars.
"What I go through makes me stronger," he said.
Success is a habit
Becoming a valedictorian, varsity athlete, drug addict, alcoholic or pregnant teen starts now, say Bostick.
"Lawyer, reporter, archetict, rapper, veterinarian," are just a few of Sierra Vista sixth graders' future goals. And Bostick says the means to those goals begin now.
"You want to be a rapper? Lil Wayne, Eminem, these guys didn't wake up successful," he said.
Bostick encouraged students to begin focusing on their goals now. He says the school's Gear Up program helps students towards collegiate goals, and is a perfect tool that students should indeed utilize.
Inspiring others
Bostick ended his presentation by encouraging the middle schoolers to "be cool to everyone."
Cliques and 'cool people' he says, typically look down on others.
"Who here can agree to tell someone, 'you are awesome'?"
He encouraged students to look out for those who are sitting alone at lunch time, a friend who may need some love or an adult who could use a random act of respect.
In the past decade, Bostick has spoken to over half a million students across the United States on how to be true to themselves by living their own dreams-not someone else's. He teaches actionable lessons on how to succeed at the game of life by making good choices, staying in school and being a role model for others, helping others to see their own potential.
"When a kid feels hopeless and finds that hope again; that's my favorite part about this job," he said.
Bostick is scheduled to speak to Sunnyside students all this week, with motivational speeches and workshops on how to become "a better you." He will also be directing students on how to set and achieve goals this week in Sunnyside.
Amber Schlenker/Daily Sun News
Motivational speaker Aric Bostick sprays students with a water gun to grab attention while students piled into the Sierra Vista Middle School gym yesterday.
1 Amber Schlenker 5/1/2012 4:31 PM