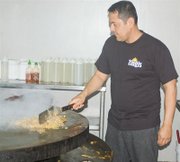 George Curiel says he was a youngster when he first decided he wanted to open a business.
"It's always been in my blood since I was a young boy," says Curiel, who with wife Eva became owner of the Zingis Mongolian BBQ restaurant in Sunnyside last month.
Curiel is new to the restaurant business, but has experience running an operation as for the past 11 years he has operated a dry cleaning outfit in the Tri-Cities.
Now he's here in Sunnyside day in, day out, supervising Zingis.
Curiel says he learned of the opportunity to purchase the eatery from one of his dry cleaner employees who is related to an employee at Zingis.
"The food is great. I'm excited about the quality of food we serve. It's a good opportunity in Sunnyside," he says.
Curiel said the food will remain great as the menu will continue to have the same offerings. He did note there will be more of an emphasis on customer service, as the restaurant has expanded from two to five employees.
"We're putting money into customer service," he said. "I believe every person that walks in the door deserves great service with great food."
Curiel says he's using some of the lessons learned from being in business for more than a decade.
"You have to have a plan and execute it," he says. "If you do the right things and stick with it you'll be successful."
Curiel says he's happy to work for that success as a Sunnyside business owner.
"I'm happy to be part of the community," he smiles. "I'm just thankful to be here and associate myself with Sunnyside."