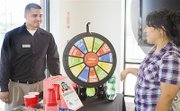 The Cellular Connection (TCC), the nation's self proclaimed largest premium Verizon Wireless retailer, made its presence known to Sunnyside last Friday.
At its grand opening event TCC and Verizon Wireless donated $500 to Sunnyside's Promise.
The donation, according to Sunnyside's Promise Executive Director Mark Baysinger, will go towards the agency's youth recreational program. They are planning for a tee ball and baseball program for area youth ages 5 to 12 this summer.
Before opening the store, the company hired four local employees. The store's manager, Steven Ventura, was enlisted to suggest local agencies to donate the funds to.
Each time the company opens a new retail store they like to kick-off the opening with giving back to the local community.
That's according to TCC Regional Manager TJ Dailey.
"We'll definitely be donating throughout the year as well," he added.
But donating to Sunnyside's Promise was the "perfect fit for what we want to do," Dailey said.
TCC has more than 800 stores across the nation and Sunnyside's location is the only store in the Yakima and Columbia valleys.
Dailey says the company's number-one goal is to keep a personal customer service relationship with its customers.
"We want our customers to say, 'Let me take you to Steven, my Verizon guy'," Dailey added.
To further its involvement in the local community, TCC employees plan to be part of the Cinco De Mayo festivities this coming weekend by marching in the parade and hosting a mobile store.
"People will be able to buy phones and accessories right at the park," he said.
TCC employees couldn't be happier with the company's policy on community involvement.
"We are just looking forward to being part of the community," Dailey said.