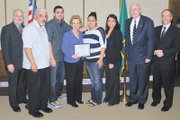 It was a simple choice Alvino Luis Carranza Sanchez made when he renewed his driver's license.
He chose to be an organ donor. And when he passed away at the age of 26 in April of 2010, his death gave five other people a gift of life.
His family says that his decision "gave recipients breath with his lungs, cleansing with his kidneys, an efficient liver and a loving beat with his young heart."
In February of this year, Sanchez was honored with the Washington Gift of Life Award by Gov. Christine Gregoire. The award is given to six families or individuals each year who represent all those in the state who have donated organs.
Sanchez's family received the award in his honor from the governor. His mother, Eliticia Sanchez, wants others to recognize the gift her son gave to others.
"My son made a wise choice in signing up for organ donation," she said. "A choice that saved more than one life."
According to the office of the governor, nearly 1,600 people in Washington state are at risk of dying if they do not receive an organ donation. Last year, 118 Washington residents became donors, saving the lives of 315 people with transplanted organs.
The Sanchez family wants others to know about the choice that can save multiple lives. They experienced living through a personal tragedy, which in turn helped others to not go through the same. Five other families do not have to endure the pain they have thanks to Alvino Sanchez's decision.
His family also wants the community to know about two coming events that can help with the donation process. Both events are scheduled for Saturday, May 12. The BJ Miller Memorial Scholarship Golf Tournament will start at 11:30 a.m. at Black Rock Creek Golf Course. Later in the evening, starting at 7 p.m., the Yakima Valley Community College Grandview Student Council will host Spring Bash '12, featuring Matt Baker and Brian O'Sullivan. Proceeds from the events will benefit organ donation.