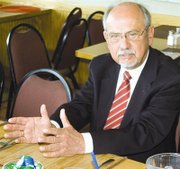 The U.S. Senate's inability to pass a budget and the incumbent president's campaign strategy were among the discussion items during Congressman Doc Hastings' stop in Sunnyside yesterday.
The Pasco Republican lunched with members of the Sunnyside Republican Club Tuesday at the Sunny Spot Restaurant.
Over sandwiches and soup, Hastings toed the party line in noting the Republican-controlled House was able to get a budget passed, but that Democrats in charge of the Senate haven't been able to approve a budget despite having the majority.
Hastings said claims by Democrats that Republicans are stalling progress on a Senate version of the budget are false because only a simple majority is needed.
Hastings said a reason why Democrats were unable to pass a Senate budget is due to lack of support in the party for tax increases called for by the Obama administration.
He said another indication of weakness for Democrats and the president is the Oval Office's decision to pull back on proposed child labor and environmental reforms. "That signals they're feeling the heat," Hastings said.
The congressman also chastised President Obama's frequent appearances on the campaign trail. He called the president's three recent stops on college campuses to talk about student loans "pathetic."
Republicans haven't gone unscathed in this presidential election year, as presidential contenders have attacked each other during the primary season.
Asked if Mitt Romney, the party's likely nominee, can get past the attacks brought by Rick Santorum and Newt Gingrich, Hastings said the party will unite behind its candidate.
"Politics is a rough business," Hastings said. "But at the end of the day we'll come together."