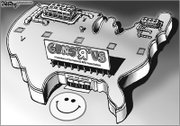 Shootings, theft, robbery, murder and gangs, unfortunately, are all commonplace happenings in the world.
But in our small towns, I've come to realize these crimes have a deeper effect on the community.
In bigger cities, like the Seattle area I used to call home, crimes are just part of everyday life. Unless the crimes directly affect you, or make national news, no one really sits around to give them a second thought.
But here, when we find out about even the smallest of crimes, all are talking about it.
Earlier this year there was a meth-lab raid in my hometown of Zillah. It was the talk of the town for weeks.
In our small towns, neighbors, even if they are strangers by name, have become like distant relatives. We like to update to relatives on the happenings and occurrences and make sure they stay safe.
I believe we can use this Mayberry mindset to our advantage.
Sunnyside Police Department Crime Analyst Courtney Percival urged area residents last week to report the crimes they see. She said there might be a fear of retaliation, with the gang problem being so prevalent in our city, but the only way to better our community is to tell someone about it.
With conviction she told community members the police department's goal is to eliminate the gang problem in the city. I believe her.
And we can help. It's for the safety and betterment of the community to report what we know.
Percival said officers are working towards gaining more community trust, but for me, now it's up to us. If we band together and decide enough is enough, we might be able to make some headway.
All I want is to feel safe raising a family (someday) in the valley that I call home.