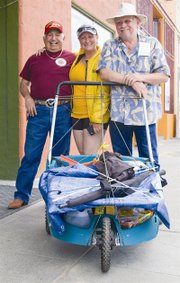 MABTON - It's been Mike Hansen's life-long dream to take a walk. But not just any walk.
He wanted to walk and walk and walk.
The idea to garner funds for the family non-profit, HELP (Helping Every Little Paw) through a nearly 600-mile walk started as a bet.
The Hansen family discussed Mr. Hansen's dream to take a long walk, while an eavesdropper overheard the discussion.
"I bet you $400 you won't make it," a random passerby said.
Then the idea hit. Mr. Hansen and his daughter, Leah, 32, began collecting pledges for each mile the father-daughter duo could step.
Nearly 10 days ago, the two began their journey in Coeur d'Alene, Idaho. Last night they made their stop in Mabton.
From Prosser the duo decided walking to Bickleton would be too far. So they made a few calls and ended up at the Mabton VFW. Manuel Soto, recommended by Police Chief Rick Gutierrez, was more than happy to accommodate the pair.
At the culmination of their 24-day trip, the two will end up in Newport, Ore., where they will visit Rouge Brewery's annual Brewer Memorial Festival slated for May 18. The three-day festival is organized around the memory of the family pet, and all proceeds go towards helping local animal charities.
The Hansen family started HELP nearly three years ago, with the idea to help others care for their pet. The non-profit family organization is dedicated to the health and happiness of all pets. That means anything from rescuing pets from less than desirable situations and providing funds for families to afford the necessities like veterinarian bills and food.
"Every penny goes towards the organization," Mr. Hansen said.
When thinking about the hot beating sun, or aching feet, Leah Hansen says giving up is not an option.
"There's no way I could let my dad down," she added.
Mr. Hansen says walking through eastern Washington has been a sight to see.
"When you're in a car you miss everything," he said.
This 66-year-old is truly in his element, and for a cause the entire family can get behind.
From Mabton, the two will head off to Bickelton as they make their way to their destination.
To follow the progression of their trip, visit "Helping Every Little Paw" on Facebook.