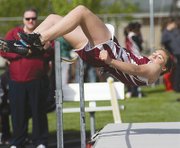 GRANDVIEW - A pair of Grandview sophomores, Kassie Prieto and Miranda Ebbelaar, each secured two victories at a four-school CWAC girls track and field meet hosted by the Lady Greyhounds yesterday afternoon.
Prieto proved to the fastest sprinter among the Grandview, East Valley, Othello and Toppenish squads, winning both the 100 and 200-meter dashes.
In the shorter of the two sprints, which drew a 29-girl field, Prieto sped to the finish line in 14.13 seconds. East Valley's Briana Rangel was second with a clocking of 14.47.
In the 200m race, Prieto was even more dominant. She clocked the winning time of 27.82 seconds, more than a second quicker than runner-up Kennedy Mattern of Toppenish (28.86).
Ebbelaar picked up her two wins in the javelin and high jump. She edged Toppenish junior Lauren Spencer, the runner-up, by seven inches with a throw of 97-6 in the javelin. In the high jump, Ebbelaar cleared the bar at 4-4, two inches higher than the second best jump on the day, posted by East Valley freshman Carly Wilson.
Grandview's girls also recorded victories in the 400m run and discus. Freshman Kaysie Kollmar was three and a half seconds quicker than second-place finisher Vanessa Murillo of Othello in the 400, and GHS sophomore Jamila Shafer won the discus event with a throw that was four and a half feet further than her nearest competitor.
The first through fourth-place finishers in each of the girls events follow:
100m - 1st-Kassie Prieto (G) 14.13, 2nd-Briana Rangel (EV) 14.47, 3rd-Amy Gonzalez (T) 14.54, 4th-Sarah Guel (T) 14.66
200m - 1st-Kassie Prieto (G) 27.82, 2nd-Kennedy Mattern (T) 28.86, 3rd-Briana Rangel (EV) 29.05, 4th-Anjhellica Ampil (G) 29.77
400m - 1st-Kaysie Kollmar (G) 1:07.34, 2nd-Vanessa Murillo (O) 1:10.88, 3rd-Hailey Andreas (EV) 1:18.88
800m - 1st-Kennedy Mattern (T) 2:43.42, 2nd-Sheccid Arreola (EV) 2:44.61, 3rd-Osiris Rodriguez (T) 2:45.52, 4th-Kaitlyn Barnett (O) 2:52.20
1600m - 1st-Yasamin Mohsenian (EV) 5:43.00, 2nd-Sheccid Arreola (EV) 6:07.00, 3rd-Lindsy Gatewood (O) 6:10.00, 4th-Kaitlyn Barnett (O) 6:18.00
3200m - 1st-Yasamin Mohsenian (EV) 12:41.03, 2nd-Tristan Begay (O) 14:41.43, 3rd-Marlen Rojas-Gonzalez (G) 15:09.89
100m hurdles - 1st-Adalee Petersen (EV) 16.25, 2nd-Jailene Alvarez (O) 20.66, 3rd-Lysandra Perez (EV) 21.36, 4th-Grisel Rodriguez (EV) 21.65
300m hurdles - 1st-Adalee Petersen (EV) 54.43, 2nd-Lysandra Perez (EV) 57.29, 3rd-Deya Rodriguez (O) 1:03.53, 4th-Emma Saavedra (T) 1:04.10
4x100 relay - 1st-East Valley (Emily Bardwell, Alyssa Sybouts, Kate Monteith, Briana Rangel) 53.13, 2nd-Grandview (Anjhellica Ampil, Miranda Ebbelaar, Tania Laurel, Kassie Prieto) 54.36
4x200 relay - 1st-East Valley (Emily Bardwell, Lysandra Perez, Briana Rangel, Kate Monteith) 2:00.15, 2nd-Toppenish (Amy Gonzalez, Emma Saavedra, Samantha Osorio, Lilly Nava) 2:03.08
4x400 relay - 1st-Toppenish (Danielle Zyph, Osiris Rodriguez, Kennedy Mattern, Angie Zuniga) 4:34.87, 2nd-Grandview (Jamila Shafer, Kassie Prieto, Tania Laurel, Kaysie Kollmar) 4:37.06
Shot put - 1st-Mikaela Zimmer (EV) 34-1.5, 2nd-Natalie Vargas (T) 27-9, 3rd-Ariana Faith (EV) 27-0, 4th-Asucena Alvarado (O) 26-9.5
Discus - 1st-Jamila Shafer (G) 92-6, 2nd-Maria Rueda (T) 88-0, 3rd-Lourdes Walle (T) 84-3, 4th-Cindy Pulido (EV) 80-4
Javelin - 1st-Miranda Ebbelaar (G) 97-6, 2nd-Lauren Spencer (T) 96-11, 3rd-Grisel Rodriguez (EV) 92-11, 4th-Cindy Pulido (EV) 83-3
High jump - 1st-Miranda Ebbelaar (G) 4-4, 2nd-Carly Wilson (EV) 4-2, 3rd-Cindy Pulido (EV) 4-0, 4th-Cheyenne Adams (EV) 4-0
Long jump - 1st-Cheyenne Adams (EV) 12-11, 2nd-Julissa Valenciano (O) 12-10, 3rd-Crystal Navarro (G) 12-7, 4th-Abigail Garza (O) 12-4
Triple jump - 1st-Katie Haas (EV) 30-5, 2nd-Cheyenne Adams (EV) 29-6, 3rd-Julissa Valenciano (O) 28-9, 4th-Theresa Barney (T) 25-0