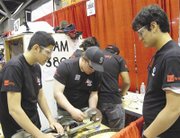 ST. LOUIS, MO. - Sunnyside High School was one of more than 400 teams competing this past weekend at a world robotics championship held in St. Louis, Mo.
"For being the world championships, the team did extremely well representing Sunnyside High School," said advisor Carl Walther. "We ended up ranked 66th out of 100 teams in our division, which I think is pretty well considering all the mechanical issues our robot ran into."
The robotics competition stages short games played by robots. The robots are designed and built in six weeks (from a common set of parts) by high school students with supervision from mentors.
The students program and remotely control the robots in competition rounds on the field. The goal is to encourage students in the fields of science and engineering.
A total of 32 countries and 1,200 students participated in the world championships held last weekend.
Walther said mechanical issues meant SHS students were having to literally rebuild their robot between matches while other teams were fine-tuning their robots.
Besides a respectable placing, the Sunnyside team received the event's Coopertition Award, which honors the team that best demonstrates the ability to help their opponents compete.
Walther called it an "exciting surprise" because it was one of just 11 awards presented in Sunnyside's 100-team division.
"For a second-year team, I am very proud of what my students have accomplished. They never gave up and continued to work to improve and fix the robot throughout the competition," Walther said. "Each student comes away from this event with tons of great life experiences and a very positive feeling."
He says the learning experience from this year's event will hopefully translate to success next year, as well.
"They were able to observe the origination structure of some of the very best teams in the nation and it is my hope that they will be able to learn from this to make the team 10 times stronger in the future."
Walther says the robotics competition teaches students not only engineering, design and fabrication, but also how to run and organize a successful organization. "The skills to be successful in today and tomorrow's world," he says.
Looking ahead to next year's robotics competition, Walther says the program is looking for mentors who are willing to help. For more information on the program, or to assist with the team's future travel expenses, contact Sunnyside High School.