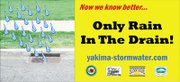 "Only rain in the drain!" That slogan is part of a message headed to a Sunnyside billboard this month.
This past Tuesday, Yakima County commissioners approved a contract with CBS Outdoor to put stormwater-related messages on nine billboards around Yakima County.
One of those billboards is here in Sunnyside, near the corner of Sixth Street and Yakima Valley Highway.
Brian Cochrane is Yakima County's surface water supervisor, and he said the stormwater billboard will show up around the middle of this month.
Cochrane said the message is part of an information campaign that Sunnyside, Union Gap, Yakima County and the city of Yakima are launching as part of state-mandated stormwater requirements for municipalities with populations greater than 10,000.
The four entities are working together in sharing the costs for the stormwater outreach effort - which also includes brochures - getting out the word that oils and other liquids poured down the drain end up in stormwater and ultimately the Yakima River.
"We're cooperating regionally because we can do one program, get out one message across all jurisdictions and save costs," said Cochrane.
Accordingly, the nearly $5,000 price tag for the nine billboards will be shared by the entities based on population. Sunnyside will be responsible for about 10 percent of the cost or nearly $500.
Cochrane said the billboard messages will be up for a total of eight weeks, four weeks starting this month and then for another four weeks later this summer.
He says the focus is to get out a simple message, in this case "only rain in the drain."
Cochrane added, "People have to understand there's a linkage between what you put down the drain and what goes in the river. We're building the message one step at a time."
A survey will later be distributed to see if the public is getting the message.
Cochrane says the stormwater billboards here and around Yakima County will only be in English, but that bi-lingual brochures about stormwater are available at Sunnyside City Hall and the Sunnyside Library.