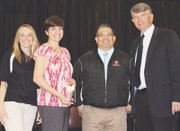 EVERETT - Three Sunnyside elementary schools last week were recognized by the Washington State Board of Education and Office of the Superintendent of Public Instruction (OSPI) for academic gains.
Outlook, Pioneer and Washington elementary schools all received Washington Achievement awards at a presentation in Everett for improving the academic environment and closing achievement gaps.
Outlook Elementary School received an improvement award, as well as an award for overall excellence. Pioneer was the recipient of an overall excellence award, and Washington Elementary School was recognized with an award for overall excellence, as well as math achievement.
The schools were among the state's top-performing schools, according to officials with OSPI and the board of education.
"Overall excellence awards are also given to the top 5 percent of all elementary, middle and high schools, as well as comprehensive schools," said David Goehner of ESD 105.
Outlook Elementary School Principal Maria Hernandez said, "Our thoughts and reaction were collectively centered on 'Finally'."
She said the school staff, students and parents have been dedicated to improving state testing results.
"Our persistent focus on individual student data and improved teaching and learning has been noted in our students' progression and improved success," said Hernandez.
Pioneer Elementary School Principal Kristine Diddens said, "The teachers have been diligent about focusing on the state standards."
She said professional learning communities have helped educators clarify what students need to learn and what knowledge they possess. The educators have used data to track the success of the students to meet goals.
The principals said the students and staff were made aware of the fact that their schools have been recognized for their achievement, and all are proud of what they have accomplished.
Diddens said, "Every day I am amazed at how hard the teachers and students are working. It was amazing to have those efforts recognized."
Hernandez said she is proud of the hard work and commitment of the students and staff at her school.