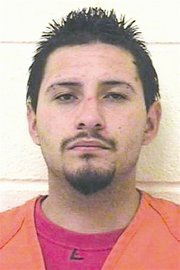 HOOD RIVER, ORE. - Oregon State Police officers with the help of the Hood River Sheriff's Office and Hood River Police Department this past Tuesday morning arrested Daniel Cerda, 26, of Sunnyside on requested charges of eluding and reckless driving.
Oregon troopers say Cerda led law enforcement officers on a high speed pursuit following a routine traffic stop for speeding 60 miles per hour in a 55 mile per hour zone.
The vehicle, a 2009 Nissan Altima, was traveling eastbound on I-84 and stopped for the trooper, according to officials. However, the driver of the Altima, which had Washington state license plates, placed the vehicle in gear and fled the scene as the trooper approached on foot.
The trooper, say officials, got back into his patrol vehicle and attempted to overtake the Altima as it reached speeds of nearly 120 miles per hour.
Troopers say the vehicle exited into Hood River city limits and local authorities attempted to get the driver of the vehicle to stop.
The driver, say officials, did not stop, but proceeded to re-enter the freeway. The driver stopped the vehicle a second time before taking off at a high rate of speed. Troopers said the driver was recklessly passing other vehicles as the Altima headed eastbound on the freeway.
An Oregon State Police trooper deployed spike strips near milepost 76 as law enforcement officers continued to pursue the Altima.
When the suspect vehicle crossed the spikes, the right front tire was deflated, according to officials. That eventually led the driver to stop the Altima nearly two miles later.
The driver, say troopers, fled the scene on foot, but stopped and surrendered a short distance from the vehicle.
The driver was later identified as Cerda and he was taken to the Northern Oregon Regional Correctional Facility on charges of felony attempt to elude law enforcement and reckless driving.