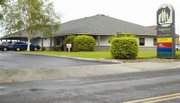 The Neighborhood Health Services clinic in Sunnyside learned Tuesday, May 1, that it has received a federal grant for $4.7 million that will pay for an expansion of its facilities, allowing the clinic to serve more patients.
The clinic, which is now about 7,000 square feet in size, will be doubling in size, according to Chief Operating Officer Rhonda Hauff.
"We will be adding nine exam rooms, which will give us room for three more medical providers and a behavioral specialist," she said. "We will also add two dental exam rooms to our current three and an in-house pharmacy for our patients."
But if that isn't enough, the grant will also allow the clinic to add new services.
"We will have our first ever vision center," Hauff said. "Patient surveys indicate that's the area with the most need."
The grant application, written a year ago, emphasized the vision center.
Neighborhood Health Services serves primarily low income and uninsured patients. It also has an outreach program for the homeless.
Hauff said the award, a Building Capacity Grant, is entirely for the expansion of the facilities, however, and not for the services themselves.
Funding for the grant is provided by the Affordable Care Act and the Recovery Act and administered by the U.S. Department of Health and Human Services.