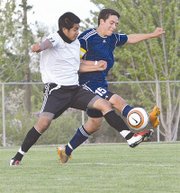 PROSSER - Eileen Harbertson is a master's student at the Prosser Washington State University Extension Office. She has been conducting research on canopy management in grape vines by using strigolactone, not available commercially.
Harbertson was the featured speaker at yesterday's grape fieldman's breakfast in Prosser.
"Strigolactone is currently only available for research purposes," said Harbertson Thursday morning.
She said she has been studying how use of the hormone can affect how oxygen moves through plants.
"It can inhibit the vascular structure," said Harbertson.
Although strigolactone is naturally produced in the roots and stems of plants, she has researched how the canopy can be controlled with additional use of strigolactone.
"It can inhibit side branching and strengthen applicable dominance," Harbertson said.
Using a cotton swab, she applied the hormone to restrict the movement of auxin, a hormone that helps plants develop new phloem and xylem.
Strigolactones, said Harbertson, limit the outflow of auxin from buds. That prevents the development of cells that strengthen the plant beyond the buds. It limits shoot expansion, keeping the plant within a limited canopy.
She said she used Syrah vines to conduct her research and found a strong response to the application of strigolactone.
Above the ground the lateral shoots of the plants were inhibited and below ground lateral branching occurred in the roots.
Harbertson said the research is important to growers because they want to control canopies.
Some of those present for Thursday's breakfast meeting asked if she had considered using the research on Muscat vines.
Harbertson said she would like to have access to Muscat because she understands the vines tend to branch out more than desired. The result of the increased canopy is little to no fruit production on the extended vines. Nutrients are also spread to the extended canopy, resulting in less production where fruit does grow.
"If the growth can be controlled, the remainder of the plant can be more productive," she said.
Harbertson plans to publish her findings in a thesis she is writing this coming fall.
She said she would like access to Muscat plants so she might add them to her research through the summer months.
Harbertson said there are many growers interested in the findings of her research and other researchers are curious how it might tie in with their own work.
She said her hope is that the research is beneficial and producers might be able to better manage crops as a result of her findings.