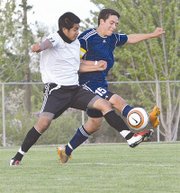 GRANDVIEW - The Grandview boys soccer team secured a 1-0 shootout victory over Selah to advance into tomorrow's (Saturday) semi-finals of 2A District competition at Othello.
The Greyhounds and Vikings in regulation, despite multiple scoring attempts, were unable to get the ball past the crossbars.
"It was a very tight match," said Grandview Coach Anne Holden.
Grandview had seven scoring opportunities in the first 40 minutes of the match and was denied a total of 11 times by Viking keeper Abel Bautista overall.
It was Grandview keeper Elmer Campuzano who made the game-winning save after the CWAC foes remained scoreless in sudden death overtime.
The teams were enmeshed in the shootout, answering each goal with another.
Grandview's Jon Campuzano, Ricardo Serrato, Edwin Salgado, Victor Valencia and Rodolfo Montez had each been successful at getting the ball past Bautista.
The Greyhounds were at a 5-4 shootout advantage when Selah attempted to equalize the match.
Elmer Campuzano was prepared, however. He dove to the right of the net and used his feet to clear the ball. That gave Grandview the victory.
Campuzano had a total of seven saves throughout the well-fought battle.
Holden said, "The team was sent into delightful pandemonium."
She said, "I have to give credit to Rodolfo, though. The tension in the shootout kept growing as each team answered the other's success. Rodolfo had all the pressure on his shoulders and came through, getting the ball in the net for the final goal in the shootout."
Holden is pleased with how well her team played and said all five players involved in the shootout deserve credit.
"They really came through," she said.
Tomorrow's semi-final District match against the Huskies will begin at 1 p.m. in Othello.