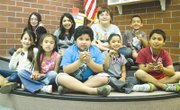 MABTON - Mabton Artz-Fox Elementary School students are climbing the wall of reading success.
Last year, students collectively achieved 2,290 Accelerated Reader points throughout the entire academic school year.
The Accelerated Reader program assists students in reading and comprehension measurement. Students earn points after reading a book and completing a computerized comprehension assessment.
The Accelerated Reader specialist team, led by English language learning teacher Angelica Reyna, has embedded monthly motivational recognition awards into the program in order to encourage students to build up their reading skills. Reyna says this year the students' excitement for reading has grown exponentially.
With the program only beginning this past January, students have more than doubled last year's points with 4,936.
Reyna says that's largely due to community support from the Sunnyside Masonic Lodge and generous individuals who have donated prizes to the school's top readers.
In addition, the specialist team has created a measurement tool, posting students' photos along the school hallways to show their progress. Students are also working towards benchmarks, once they've reached certain goals they have earned an ice cream party and other rewards.
By year's end, two students will walk away with a bicycle, also donated by the Masonic Lodge.
Reyna says although the school is grateful for the generous donations, additional prizes are always welcome.
"We'd really like to give a bike away to the top readers in each grade," she said.
Top student readers at Artz-Fox include kindergartener Darisi Tena, first grader Alexis Perez, second graders Jenoah Farias and Ebony Ramirez, third grader Steven Arrellano, fourth grader Fernando Lemus, fifth graders Makaylaw Castellanos and Yessica Yepez, and sixth grader Braiden Morrow.
Currently, Castellanos holds the highest accelerated reader points in the entire school, with more than 357.
"I'm pumped with the way the kids are excited about reading," Reyna said. "They are excited to move up (along the walls)."
But these students aren't just causal readers.
"It took me one week to read Harry Potter 1-7," said Morrow.
Castellanos says she often is captivated by a book and spends close to six hours of non-stop reading.
Morrow added his favorite facet of reading is the experience he gets from imagining the written word. Ramirez said Clifford the Big Red Dog is her favorite books, "because it's funny," she said.
Students are gearing up for the end-of-the-year raffle, where a few lucky top readers will have the chance to win the aforementioned bicycles, a Justin Bieber autograph and a few other prizes.
Reyna says donation inquiries for the Accelerated Reader program can be directed to her at Artz-Fox Elementary School, by calling (509) 894-4941.