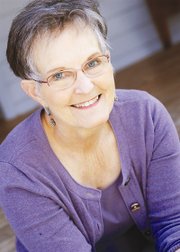 Award winning author Jane Kirkpatrick will be speaking at a tea in Sunnyside on Saturday, June 30, starting at 3 p.m. at the Sunnyside Presbyterian Church.
Tickets are being sold by members of the Ya Ya Bible study group and will not be available at the door. A limited number of tickets are available.
Kirkpatrick is the author of 20 books, including 17 historical novels. Many of her titles are based on the lives of real people or incidents set authentically in the American West.
Her first novel, A Sweetness to the Soul, won the coveted Wrangler Award from the Western Heritage Center. A Tendering in the Storm won the 2007 WILLA Literary Award for Best Original Paperback and A Flickering Light, a story based on Kirkpatrick's grandmother's life as a turn of the century photographer, was named to Library Journal's Best Books of 2009.
In 2005 she was named by the largest writer's group in the Northwest as the Distinguished Northwest Writer of 2005. She is the recipient of the Caldera Special Recognition Award from The Nature of Words.
In addition to her historical fiction, Homestead relates her own family's modern-day struggle to catch a dream in the Oregon Territory. Kirkpatrick's latest work, Where Lilacs Still Bloom, is set in Woodland.
She was a featured speaker for the European Council of International Schools in Nice, France, Sorrento, Italy and for the Word Guild in Guelph, Canada and Edmonton, Alberta.
For 26 years Jane and her husband Jerry ranched along the lower John Day River in rural Oregon. They now live on small acreage between Bend and Redmond with two dogs and one cat.