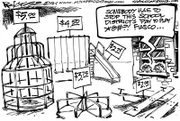 In the old I Love Lucy show, whenever Lucy got in trouble Ricky always told her she had some 'splainin' to do.
I think the same is true for Sunnyside School District administration and its architects. How do you take on a $27 million high school expansion and upgrade and not account for growth?
In case you haven't heard, the local school district is considering adding on 12 more classrooms to the new two-story high school building that just went up.
Most of the money for the new construction came from state funds, but a chunk came from a bond local voters approved a couple of years ago.
Our pocketbooks may be called on again, in the form of another bond, that's going to have to pay for new construction on the new construction already underway.
Or, school officials may opt to dip into the district's reserves and ante up the $800,000 or so it would take to glean another $2 million from the state to proceed with this add-on.
Either way, I think a public meeting on this topic alone is in order, not as one of many items but as the sole focus.
How did we not plan well enough for future growth at the new and improved high school building that's not even finished yet?
Would we be better off with two high schools instead of one?
Is there room in the middle schools to have them be seventh through ninth grade buildings until the district's brain trust figures out a long-term solution to the high school building problem?
Or, maybe for a season, could the kindergarten students return to the elementary schools and Sun Valley for a time house some of the high school students?
These are some of the questions that could be - should be - answered in a public setting, especially if the school district is going to come at us with a bond measure after we just approved an M&O levy a few months ago.
I'm still dazed by the first question, though, the fact our new school is already outdated while still under construction.
Start 'splainin' Lucy.