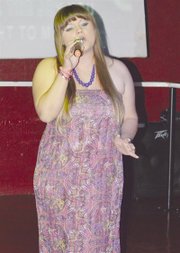 For the past five weeks residents of the Yakima Valley have converged at Sunnyside's Fuego Lounge for an entertaining karaoke contest.
A total of 20 contestants began performing for crowds on April 5. Last night, five finalists remained. Teresa Schultz was named the winner after performing two songs during the finale.
The finalists also included Tara Mendoza, Manuel Hernandez, Ernie Lara and Elias Milanez, who was saved last week by the judges.
The contestants took to the stage to provide two vocal performances each, keeping the audience excited throughout the competition.
Those tasked with judging in the finals were Aaron Guerra, Melissa Garcia and Jesse Aguirre. The judges throughout the five-week contest had the opportunity to save one contestant from elimination.
"There's a reason you are in the finals," Garcia said following one vocal performance.
Her sentiments were echoed by the other judges as the contestants one-by-one wowed the audience.
The first song each contestant selected for themselves was chosen at the beginning of the contest.
Rosa Picazo, marketing manager for Fuego Lounge, said the contestants selected five songs each before taking the stage in April.
"They saved their favorite song for the finals," she said.
Mendoza selected Celine Dion's "Because You Loved Me," Hernandez performed "Borracho te Recuerdo" by Vicente Fernandez, Lara wowed the crowd with a rendition of "Volver, Volver" by Vicente Fernandez, "Paloma Negra" by Fernandez was performed by Milanez and Schultz selected Whitney Houston's "I Will Always Love You" for her performance.
The contestants were asked on the same day of the performance to select a second song.
Lara selected "All Summer Long" by Kid Rock, Milanez performed "La Peda" by Originales de San Juan, Schultz chose to sing "Mercy" by Duffy, "En La Misma Carra" by Liberacion was the song selection of Hernandez and Mendoza belted out "Heartbreaker" by Pat Benatar.
The judges were enthusiastic, as was the crowd, following each performance.
"You hit all the high notes and all the low notes...you are fantastic," Guerra said following one performance.
The other judges, too, noted the finalists were "bringing their best to the stage."
The judges were charged with scoring each contestant based on vocal tone and singing ability, performance, stage presence and crowd response. The contestants could potentially score a total of 100 points for each performance.
The grand prize awarded to Schultz was $400 cash and a $100 Fuego gift card, but R.J. Cruz added $100 cash to the pot last night.
"I have been here every week and wanted to give the performers extra incentive," he said.
The runner-up, Lara, was the recipient of $100 cash and a $50 Fuego gift card.
"We held the contest to provide the community an ongoing entertainment opportunity. It gave people something to look forward to," said Picazo.
She said there are plans to sponsor another contest in June.