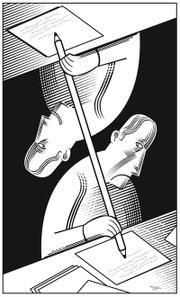 Copyright laws have changed dramatically from the founding of our country, and that is rapidly becoming a serious problem.
Copyright is a relatively new concept in human history, with no real need arising for it until books could be made cheaply and quickly. At that point, to protect the ability of an author to make money on his own creation, copyright laws started to pop up, usually with terms of a few years up to about 20 years.
The earliest copyright laws in the United States lasted between five and 28 years, sometimes requiring a renewal. The first federal copyright lasted 14 years with a 14-year renewal.
Copyright in the United States is now 95 years from publication, 120 years from creation or the life of the author plus 70 years. Those terms apply to every creative work produced since 1978. What this means, essentially, is that most works created in our lifetimes will not enter the public domain while we are alive.
When books had to be created by hand and music needed a physical media to hold it, copying had challenges and copyright law was less difficult to enforce.
But now, thanks to advances in technology, books and music can exist as files that can be copied infinitely with no loss of quality. And copyright law is being broken constantly because the sheer simplicity of making a copy means some people forget the act is illegal.
The result of the extension of copyright terms beyond most human lifetimes mixed with new technology means that for many of today's youth, copyright is utterly meaningless.
A good number of the rising generation don't accept copyright law and share works they enjoy without regard to the consequence or respect for the creators. The result is akin to what it would be like without copyright law. Writers have lost control of the distribution of their books, music can be found for free within hours of its release and nobody gets paid.
And distributors go after customers who download illegal copies with ridiculous lawsuits or financially crippling settlements, pushing public opinion further against them.
To fix it, we really need to go back to reasonable terms of copyright with measured punishments against those who violate it. A term of 28 years with the sole right to copy is more than enough time for most authors to benefit from their works.
With a shorter term, copyright will actually mean something instead of being an unenforceable, antiquated method of holding a monopoly.
As it is, copyright no longer works. Piracy is rampant, consumers don't trust creators or distributors enough to respect copyright and the lack of works falling into the public domain has stifled creativity by not allowing new authors to build on previous works.
I love copyright. That's why I want it to go back to being limited.