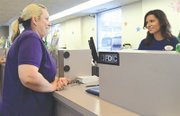 Working in retail service can be enjoyable if you are customer service oriented like Karina Lopez.
However, the hours aren't always reliable, and this mother of three found herself seeking other opportunities to interact with customers nearly four years ago.
That's when Lopez found an opening at Sunnyside's U.S. Bank.
She began working for the local branch as a part-time teller and ascended the ranks to become the teller coordinator.
"There's a lot of responsibility," Lopez said, stating she enjoys working with the customers.
"I like the interaction, being able to help them," she said of the patrons of the bank.
As a teller coordinator, Lopez's responsibilities include supervising all the tellers employed at the bank.
"I make sure they follow procedures that are in place," she said.
The tellers turn to Lopez when they have questions or if an issue arises.
When the assistant manager and manager are unavailable, she opens and closes the branch. She's also in charge of drawer audits to ensure the tellers are dispersing funds appropriately.
"Keeping a drawer count is very important...we have to make sure the drawers balance and that could mean a surprise drawer audit during the day," said Lopez.
She said her job also entails teaching tellers how to conduct different transactions for the patrons of the bank.
For instance, if a customer is traveling out of state and doesn't want their debit card to be flagged for fraud, the customer can visit the bank. The tellers can make a remark on the customer's account to prevent a freeze on their card.
"New tellers may not know how to do that," said Lopez.
Also, tellers are provided a cash limit. If a customer's transaction exceeds the limit, the teller must obtain Lopez's approval for the transaction.
"Every day we learn something new. There are some difficulties just as there are in any job, but my co-workers are a good team and there is always someone there willing to help you," said Lopez.
She said the move from retail has been beneficial. It gives her the opportunity to do what she enjoys, interacting with customers, while assuring her of reliable working hours.