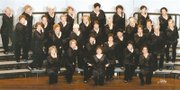 SPOKANE - Nearly 30 members of the group Rolling Hills Chorus stood on stage and gave the performance of their lives last month.
The group traveled to Spokane, April 27-28, for the Region 13 competition. At the contest, the group earned, for the second year in a row, first place honors in the small-group category. They also earned sixth place honors overall in the contest.
The group, which has members from Grandview, Prosser, Selah and the Tri-Cities, began in 1980. There are still three original members of the Rolling Hills Chorus group.
Beginning the competition the chorus sang a ballad, showing the group's ability to sing expressively. The second performance included an up-beat tune where the group could showcase its talent along with choreographed skills.
In addition to the 29-member chorus, four members calling themselves the "Columbia Connection" participated in a barber shop quartet competition, taking home 10th place honors.
"This is the highest they've ever scored for the quartet," said Eileen Duncan, one of the group's original members.
Rolling Hills Chorus members are now gearing up for their spring performance to be held in Prosser. Details of the performance's date, time and location are not yet available.
- Amber Schlenker can be contacted at 509-837-4500, or email
ASchlenker@DailySunNews.com