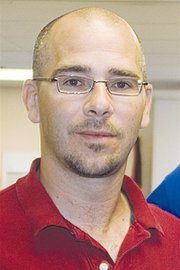 Port of Sunnyside Executive Director Amber Hansen will be retiring from her post at the end of this year.
In anticipation of her departure the port sought her replacement and landed on the application of a familiar name, that of former Port Property Development and Project Manager Jay Hester. He's been deemed the obvious choice to replace Hansen.
Hester, Hansen told the Port of Sunnyside commissioners last night, has had the training needed to fill her position.
He left the Port of Sunnyside last July and took on a position with Natural Selection Farms, owned by Ted Durfey. He was hired by the Port of Sunnyside in December 2006.
Hansen said Hester still has a few projects for Natural Selection Farms that must be completed before he can begin working for the Port of Sunnyside again. She plans to have him on board as soon as possible, getting him acclimated to the director's position.
"He is familiar with the staff," Hansen said, noting Hester's familiarity with the port's operations is a benefit.
She said there are plans to meet with Hester sometime this week to settle on a start date.
Ratification of Hester's employment will be presented to the commissioners as soon as the date he can start working for the port is established.
Hansen said there are already plans for Hester to attend a Port Director's conference this summer and she expects Hester will learn much from that conference.
Hester during his time as property development and project manager oversaw the Golob Landing development, helped guide the development of the Blehyl Petroleum facility near Midvale Road, was instrumentally involved in much of the process for the port's wetlands project that is on schedule for completion next year and completed a lot of the work at the Sunnyside airport.
Commissioner Arnold Martin said, "I'm very pleased Jay accepted the (director's) job and believe it will be a good long-term opportunity for the Port of Sunnyside."