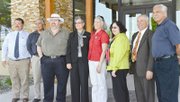 GRANDVIEW - Not only is the Grandview Library a beautiful building, but it's construction keeps the environment beautiful.
That's according to the U.S. Green Building Council which has certified the structure with the gold Leadership in Energy and Environmental Design (LEED) certification.
Yesterday (Monday) a special event was held in recognition of the award presented to the city of Grandview and Yakima Valley Community College.
"The Grandview Library is the first building in Yakima County to be certified with the LEED award," said Yakima Valley Community College Vice President of Administrative Services Theresa Holland.
She said the library is certified green and energy efficient.
Allen Opfer, a partner with Brockway, Opfer, Raab Architecture, spoke to those gathered, stating the LEED award was made possible because the library was designed to be energy efficient from the very first brainstorming meeting in October 2009.
There are six criteria buildings must meet to receive a green building strategy award, including energy efficiency, water efficiency, use of recycled materials and reduction of construction waste, the use of sustainable (open) spaces, indoor environmental quality, and innovation and design.
Opfer said state buildings must meet a minimum silver standard in green construction and design.
"This library far surpassed the standard," he said, stating achieving the standards that were met required a coordinated effort between the architects, contractors and owners of the building.
Opfer said a LEED consultant was also used to steer the process.
Grandview Mayor Norm Childress is proud of the library and said it is an example of Grandview's leadership role.
"I'm glad we are a leader and believe there are many more opportunities ahead to maintain the leadership role," said Childress, stating Grandview has set an example for other cities to follow.
The Grandview Library is designed to have nearly 29 percent energy cost savings, nearly 45 percent water savings and diverted more than 75 percent of construction waste from landfills. More than 10 percent of the materials used in the construction were made from recycled content, and the open space is equal to the library's footprint. The roof was designed to reduce a heat island effect and there is access to outdoor views throughout 75 percent of the occupied spaces.
All of that combined with several other design elements qualified the structure for the LEED gold certification that was recognized yesterday.