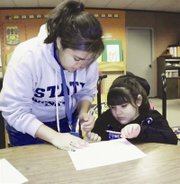 MABTON - If a visitor walked into Mrs. Scott's Artz-Fox Elementary School classroom on a Thursday afternoon, you would see many smiles and hear lots of laughter from the students.
For the past year and a half a group of Mabton FFA members have been working with elementary special education students. FFA members visit students once a week to teach kindergarteners through sixth graders about agriculture, as a community service project. This project is a part of the FARM program, which stands for Forestry Agriculture and Resource Management.
FARM encourages FFA chapters within Washington state to develop and implement "outreach" programs that engage and ultimately educate students in surrounding elementary schools through a variety of activities or presentations they might choose.
The Mabton FFA chapter chose to deliver lessons on a variety of agricultural topics, including animal science, horticulture, food science and environmental science. Team members presented lessons in an educational, yet fun way.
For example, the team taught students about horizons of a soil profile by having the elementary students create their own edible soil profile using Oreos, pudding and gummy worms.
"We tried to get the students excited about agriculture and we felt the best way to do that was to make things hands-on, and feeding them helped, too," said project member Nohemi Meza.
Mrs. Amy Scott, Artz-Fox special education teacher, added, "This FFA group was always prepared and excited to work with my special needs students. The team did a great job modifying their lessons to include all learners.
"With these lessons, my students were able to utilize all their senses while learning about agriculture. The FFA members created lessons that were tailored to the time of year, such as a pine tree lesson that incorporated science and history. I have enjoyed having these up-beat, personable high school students in my room."
The FARM team coordinators, Nohemi Meza and Jazzee Sustaita, plan to present the project at the FFA State Convention this coming Saturday, May 12.
"Last year, the team placed fifth and received a $100 scholarship to fund this year's project," said Mabton FFA Adviser Randi Krieg.
Project manager Jazzee Sustaita added to that saying, "We are hoping to place higher this year so that we can teach the students even more and do more with them next year. We want to leave next year's team with enough money so that they can do an awesome job."