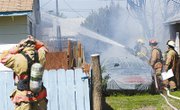 Sunnyside firemen were dispatched to the 1200 block of South 15th Street yesterday for a reported structure fire.
Upon arrival firemen noticed a 10-by-20-foot woodshed on fire and the occupants, the Castaneda family, attempting to extinguish the fire with a garden hose.
It took the 11 firemen on scene nearly 15 minutes to control the blaze.
According to officials, the fire also caught a wooden fence ablaze between the property and a residence behind the home. Firemen say an additional shed in a neighboring yard also burned.
Both structures were a total loss and officials estimate the structures involved in flames suffered nearly $3,000 in damages. Firemen do not have an official cause for the fire yet, and will further investigate the cause today.
In addition, firefighters fielded four calls for aid. Of the calls for aid, two people were transported to Sunnyside Community Hospital.