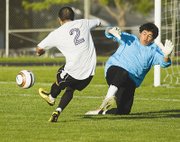 GRANDVIEW - Grandview has secured the No. 3 berth at 2A Regionals to be played on the road against the loser of today's Pullman/Cheney game.
The Regional spot was made possible because of a 4-3 victory over Ellensburg yesterday.
"It took seven goals to decide the match...it was like an emotional dishwasher," said Greyhound Coach Anne Holden.
She said both teams were prepared for a battle on the field.
It took 14 minutes before the first goal was made, but it was the Bulldogs who drew first blood. Jake Ferris capitalized on an assist by Johnny Sanchez.
Grandview battled back and Martin Barragan earned a penalty kick. Teammate Jonathon Campuzano capitalized on the opportunity to equalize the match 1-1 in the 26th minute.
It took just four minutes before the Greyhounds took advantage of another scoring opportunity. Victor Valencia went on the attack and Alex Guzman was ready for the pass. Guzman saw an opening near the crossbars and scored the goal.
Six minutes later, however, the Bulldogs answered with a penalty kick. Casey Oltman was responsible for getting the ball past Grandview keeper Elmer Campuzano and the defenders.
The Greyhounds and Bulldogs went into halftime tied 2-2.
The teams fought back and forth for 30 minutes, leaving just 10 minutes to break the stalemate.
That's when Grandview's Ricardo Serrato capitalized on an assist by Guzman, giving the Greyhounds a 3-2 lead.
Ellensburg wasn't finished fighting, however. The Bulldogs answered with a goal of their own less than a minute later. Oltman was responsible for the score, via an assist by Benjamin Stockdale.
Grandview was hungry and wanted a spot at Regionals. As a result, the Greyhounds went on the attack and with five minutes left in regulation were able to score the winning goal.
Guzman was set up in the corner, kicked the ball past the Bulldog defenders and directly in the path of teammate Ruben Clara, who was able to score by heading the ball past Ellensburg keeper Gonzalo Contreras.
Grandview (9-9-1) had a total of 11 scoring opportunities and Ellensburg had nine shots on goal.
Campuzano recorded six saves, while the Greyhounds were denied by Contreras seven times.
The kick-off for this Saturday's Regional match-up in either Pullman or Cheney will be at 1 p.m.