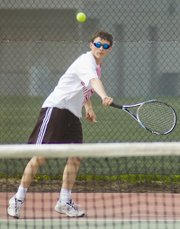 The Sunnyside boys tennis team in mid-March defeated Eisenhower and Prosser, but had difficulty securing another victory until yesterday.
The Grizzlies played Grandview, also struggling this spring, in a non-league match, winning 6-1.
"We needed a win going into District playoffs this Saturday," said Sunnyside Coach David Downing.
The first match won by the Grizzlies was in No. 1 singles. Javier Aguilar defeated Greyhound Marcus Morales 6-3, 6-2.
Scott Laverman of Sunnyside has had the best record for the Grizzlies this season. He improved to 8-4 overall with a 6-1, 6-0 win over Grandview's Jose Ramos in No. 2 singles play.
Grizzly No. 3 singles player Iran Brambila defeated Fernando Lujan 6-1, 6-0; and Arthur Alcazar of the Greyhounds was handed a defeat by identical 6-1 scores at the hands of Sunnyside's Daniel Guillen in No. 4 singles action.
Grandview was able to defeat one Sunnyside doubles team. That victory came in No.1 doubles action. Stevan Ramirez and Abel Pasillas of the Greyhounds handed Sunnyside's Jacob Martin and Mario Zarazua a 6-2, 6-1 loss.
The remainder of the doubles matches went the Grizzlies' way, however.
In No. 2 doubles action, Sunnyside's Zach Halma and Nathan Laverman battled Chris Galvan and Fernando Serna through the first set before losing 7-6 (7-4). The Grizzly duo fought back and won the next two sets 6-1, 6-4.
Joel Pulido and Juan Sanchez of Grandview were handed a 6-3, 6-4 defeat at the hands of Sunnyside No. 3 doubles players Alexis Osuna and David Lopez.
The Grizzly singles players will take to the courts again at Southridge High School in Kennewick for the first round of Districts this coming Saturday, May 12. The Sunnyside boys doubles players will compete the same day at Kamiakin High School.
Grandview tomorrow (Thursday) begins 2A Districts in Selah.