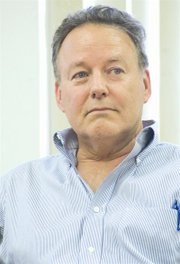 MABTON - Soon, the city of Mabton could assume ownership of the historic and former Mabton High School building.
At last night's city council meeting Paul Purcell, current owner of the building and of Beacon Development Group, approached the council asking them to consider the possibility of taking on ownership of the building.
A Washington State Historic grant is available to government and non-profit entities to help preserve and renovate Washington's historical sites.
Purcell asked the council to consider taking steps toward ownership and redevelopment of the building by beginning an application process for the grant. Purcell has developed Mabton Historic LLC to explore redevelopment possibilities and has offered to prepare the grant application at his expense for submittal by the city of Mabton.
Purcell mentioned that redeveloping the building and leasing it could bring nearly 75 jobs to Mabton. In addition, leasing the building could help Mabton bring in revenue to the capital fund.
"Taking this route allows us to look at the options," said Councilman Mario Martinez.
The council passed a resolution, allowing Mayor Angel Reyna to sign the grant application.
If awarded the grant, the city will have a period of time to research the appropriate ownership and management structure for the building and grounds, as well as long term lease possibilities.
The grant application is due May 16, and Reyna will sign the application for submittal.