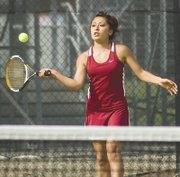 Something had to give! The Sunnyside girls finally earned a victory this season, defeating 2A Grandview, also winless this spring, yesterday by a 4-3 score.
"The singles players dominated," said Sunnyside Coach David Downing, stating the team victory helps build the confidence of his players as they prepare for this coming Saturday's CBBN District playoffs.
Amanda Villarreal of Sunnyside yesterday defeated Lady 'Hound Hannah Grow 6-2, 6-3 in No. 1 singles action, and Grandview No. 2 singles player Briana Moreno was handed a pair of 6-1 losses by Lady Grizzly Sonia Romero.
In No. 3 singles play, it was Sunnyside's Kassie Ortego who prevailed 6-1, 6-2 over Monica Guzman of Grandview.
Esmeralda Jacobo of the Greyhounds succumbed 7-5, 6-2 to Lady Grizzly Elexis Lepe in No. 4 singles action.
The doubles matches, however went Grandview's way.
Adilene Torres and Lydia Robert of Sunnyside were handed a 6-1, 6-3 loss by Grandview's Sadie Wyatt and Victoria Chambers in No. 1 doubles play.
No. 2 doubles teammates Karissa Carpenter and Gabby Avalos of the Lady 'Hounds defeated Karina Gonzalez and Yarely Gomez by a pair of 6-2 scores.
Roxy Plancarte and Jazmine Lopez fell 6-4, 6-1 to Grandview No. 3 doubles players Johanna Sanchez and Taylor Hamm.
Tomorrow (Thursday) the Lady 'Hounds will compete in Selah at the CWAC District playoffs.
Sunnyside this coming Saturday will compete at the 3A CBBN District playoffs in Kennewick. The singles players will be at Kamiakin High School, as will be the No. 2 and No. 3 doubles teams. The No. 1 doubles team, Robert and Torres, will be at Lawrence Scott Park. So, too, will be No. 4 doubles teammates Miriam Paz and Lucy Ochoa.