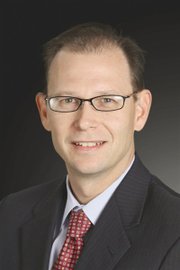 Sunnyside Community Hospital will have a new CEO on board as soon as next week.
John Gallagher has been hired as the local hospital's chief executive officer. He's expected to arrive in Sunnyside next Monday, May 14, and assume CEO duties shortly thereafter.
According to Sunnyside Community Hospital Interim CEO Bob Brendgard, the selection of Gallagher to fill the top seat at the local medical facility was made following a long nationwide search. Both, HealthTech Management and the local hospital's board of trustees were involved in making the selection.
Gallagher moves to Sunnyside from Anniston, Alabama, a mid-sized city situated among the mountains of the Southern Appalachians.
Lisa M. Garcia, the human resources director at the Sunnyside hospital, said Gallagher worked in Anniston as the CEO at Stringfellow Memorial Hospital. She said he is married and has six children.
"He is currently searching for housing in the Lower Valley and plans to have his family join him in a few short months," said Garcia.
Brendgard, who was the chief executive officer for the Sunnyside hospital in the 1980s, returned here recently to serve in an interim role, after long-time CEO Jon Smiley abruptly tendered his resignation. Smiley's retirement was effective March 1.