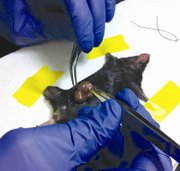 SEATTLE - Sunnyside native Anthony Kim will be presenting his research project at the Mary Gates Research Symposium at the University of Washington on Friday, May 18.
Kim, the co-valedictorian of the Sunnyside High School class of 2008, received a Mary Gates Research Scholarship this past fall for his work on understanding sepsis better, knowledge that may someday lead to better treatment options for the deadly illness.
The University of Washington senior has spent the last year and a half working at the Seattle Children's Research Institute under mentor Dr. Adrian Piliponsky, a researcher in pediatric immunity.
"It was definitely a 'jump in there and figure it out' experience," Kim said of starting in the lab. "There were only three of us in the lab, so I get a lot of one-on-one attention with my mentor, which is unique."
He applied for and earned the scholarship last fall at the urging of his mentor and was awarded $4,000 over two quarters, funding that allowed him to concentrate on a single project, "Analysis of the Role of Mast Cells and Basophils in Sepsis."
Kim's work at the institute has been useful in many ways.
"Because the lab is so small, I got to do a lot of things right away that other undergrads have to wait to do," he said. "My lab taught me techniques that got me credit for my upper-level biology courses."
He hopes the experience will help him land a spot in medical school after he graduates in June. He already has a job working as a scribe in the emergency room at Swedish Medical Center in Mill Creek for the next year.
"I've been having a great time at UW," said Kim. "I feel like I'm fairly well-rounded."
Despite how busy he is getting ready for the symposium, his mind still turns to home.
"I wish my mother the happiest of Mother's Days," he said. "And I can't wait to see her at graduation."