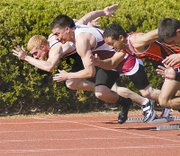 PROSSER - With outstanding performances last Friday in Prosser, two Grandview track and field athletes and a Greyhound relay team have earned Regional berths.
Herman Herrera and Daniel Lara were the only two single competitors from Grandview to earn top-5 honors in events at last Friday's District 5/6 2A championship meet.
In each event last Friday, competitors had to earn a top-5 spot to travel to the Regional competition this coming Friday.
Herrera earned top-5 honors in both the 100m and 200m. He notched third place honors in the 100m, clocking 11.13, and fourth place honors in the 200m with a time of 23.31. Crossing the finish line in first before him in both events were two Ephrata boys, Jonathan Green (200m, 22.15) and Micah Ohl (100m, 11-seconds even).
Lara finished third in the triple jump, leaping to 41-0.5, behind Prosser's Riley Haringa (41-3) and Ephrata's Layton Lange (43-1).
Overall the Grandview boys placed eighth in the 10-team track and field meet last Friday with a team score of 32. Finishing with first place honors was Ephrata with 187.5 points. Coming in a distant second was Prosser with a team score of 95, and third place honors went to Quincy with 92 team points.
Grandview's 4x100 relay team managed to bring in a third place finish, also earning them a ticket to Regionals.
The Greyhound foursome of Angel Abarca, Jose Castilleja, Herrera and Andy Rodriguez finished the race in 44.73 seconds behind Prosser (44.48) and Ephrata (43.43).
The two single competitors and relay team will head off to Spokane Falls Community College this Friday, May 18, for the Regional meet.