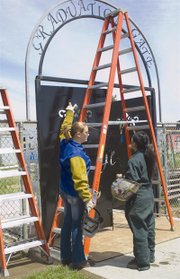 This year's Sunnyside High School graduating class will receive a special treat from one of their own, Juliet Quiroz.
As soon as she was told to begin searching for a senior project to complete, Quiroz knew she wanted to do something that would gift back to her fellow classmates, as a thank-you for a good four years of high school.
Quiroz defines herself as a girl, somewhere in between a girly girl, and a tomboy.
"I'm not a very girly girl, but I'm also not a tomboy," she said.
"Welding is dangerous, but also fun," she said.
Welding is a perfect harmony of her personality, she says. And, it's the perfect way to give back to the class.
"I wanted to do something we can all remember," she added.
Quiroz began collaborating with SHS welding instructor Tom Dolan, on how to go about a welding project that she could form into a gift for her classmates.
Quiroz has spent more than 70 hours planning, designing and welding pieces to decorate the 2012 Sunnyside High School graduation gate.
Her classmates of four years will walk through the gate on graduation day ready to receive their diplomas. And they will know, the beautiful creation they've marched through was created just for them.
She also said members of the community rallied behind her, donating all the supplies needed to complete the project.
"This project didn't cost any money out of my own pocket," she said. "That's all thanks to the community."
The side panels of the gate, which read "class of 2012," are signed by this year's SHS seniors.
Inside the top arch, Quiroz has designed and cut out a specialized grizzly design, drawn by herself.
She says the project was hard work, but in the end is something she and her classmates can be proud of.