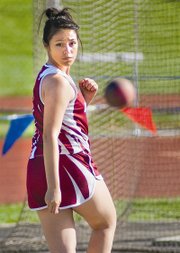 PROSSER - Grandview sophomores Jamila Shafer and Kassie Prieto are the only two individual competitors from Grandview moving on to the Regional track and field competition this coming Friday.
The two Greyhound track and field competitors earned Regional berths last Friday at the District 5/6 2A Championship meet held in Prosser. In each event last Friday, competitors had to earn a top-5 spot to travel to the Regional competition this coming Friday.
Prieto dashed to the finish line with fourth place honors in the 100-meter dash, clocking 13.40. Prieto came up just behind Ellensburg's Alexia Rodriguez (13.23), Toppenish's Angie Zuniga (12.70) and Prosser's Marlee Rees (12.40).
Shafer flung herself into second place honors in the discus event, throwing 101-1, which was just short of first place winner Samantha Fate of Wapato (101-5).
Overall the Lady Greyhounds placed eighth in the 10-team track and field meet last Friday with a team score of 26. Ellensburg came out on top with 135 points, just five points ahead of Ephrata, which earned second place honors last Friday.
Shafer and Prieto also brought in fourth place honors in the 4x400 relay, along with teammates Miranda Ebbelaar and Kaysie Kollmar. The foursome clocked the race in 4:27.37. Crossing the finish line before the Lady Greyhounds were teams from Prosser (4:20.70), Ephrata (4:11.84) and Ellensburg (4:09.65).
The two Lady Greyhound single competitors and relay team will head off to Spokane Falls Community College this Friday, May 18, for the Regional meet.