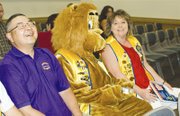 Bill Flower appeared before the Sunnyside City Council at Monday's regular meeting to request funding for the hanging flower baskets that will adorn the city this year.
Flower asked for $2,500 to improve the city-owned watering truck so it can support the load as it travels the city's streets each morning.
He asked for an additional $7,000 to pay for the flowers, which are purchased locally from Sunshine Nursery and only require watering once a day.
Flower noted that he already has 16 volunteers lined up to conduct the watering at 4:30 a.m. each morning. He also has enough money to repair the banners damaged by winds and for tree trimming, which has already commenced.
Theresa Hancock stated that the flowers are a great boost for the city.
"The community has really enjoyed the flowers," she said. "At the hospital the nurses are all commenting on how much it makes their day better to see the flowers."
When asked if there was a place in the budget for the funding, Interim City Manager Frank Sweet replied that he had no idea. He wanted a chance to research the funding possibilities before supplying the funds, but the funds were needed immediately.
"Do what you can do," said Flower. "We're really good about going out and beg(ing), borrowing and stealing. We've done that for several years."
The council eventually voted to fund the project out of REET funds, contingent on that use of those funds being allowed by law.