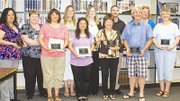 GRANDVIEW - The much anticipated votes are in, and this past Monday night the Grandview School Board presented employee of the year recognition awards to deserving district employees.
Superintendent Kevin Chase opened the evening awards, noting that many of the district's staff are worthy of the accolades. 'Staff of the year' award recipients are nominated by their peers, according to Chase, and the winners are chosen by last year's recipient of the awards.
"I love working in Grandview, and it's because of you (the staff)," he said.
Administrator of the year Wilma Kozai was the first to be recognized and Chase says she does her job with passion.
Grandview Middle School principal Paul Voorhees presented GMS teacher Brent Smasne with the secondary teacher of the year award, citing that Smasne is an encouraging example of what teachers should be.
Harriet Thompson Elementary School third grade teacher Julie Durado was introduced at Monday's school board meeting as the district's elementary teacher of the year. Her peers noted the deserving teacher always gives of herself.
The district's paraprofessional of the year was awarded to Lynda Phillips, who works at the high school. Nominators say Phillips has earned much respect from the students, and rightly so.
Compass High School secretary Hopie Alvarez was the recipient of the secretary of the year award. One colleague wrote, "She's the 'hope' of our office."
As the 'total package' Gary Baker was recognized as the district's maintenance worker of the year. Co-workers say he can do it all and then some.
McClure Elementary School assistant cook Marcie Morales loves her job, and it shows. Morales was honored with the food service worker of the year honors on Monday evening.
This year's bus driver of the year was presented to Brenda Sanchez, who is said to care deeply about all the students she transports.
"She treats the children as she would her own, she cares about them and shows concern," said Transportation Supervisor Dale Fleischbein.
McClure's Melissa Candanoza was recognized with certified support staff honors. District office employee Tina Gillis was also awarded with classified support staff member of the year.
After receiving her award she said, "Woo hoo!"
"A truly remarkable lady," according to Grandview Middle School Volunteer Coordinator Debi Foster, is Esmeralda Garcia. Garcia volunteers at Grandview Middle School and was recognized as this year's volunteer of the year.
The evening ended with cake, punch and a few words by Grandview School Board directors, citing their thankfulness for the hard-working and passionate staff members in the district.