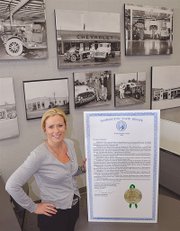 When Clayton Speck settled in the Sunnyside area in 1908, he may not have dreamed his name would live on for more than 100 years.
The month of May marks the 100th anniversary of C Speck Motors in Sunnyside.
Now in its fourth generation of family ownership, C Speck Motors was founded in 1912 by Speck, and continues to be owned and operated by the Speck family. Its current owners are Katy (Speck) Moore and JP Moore.
The State of Washington has issued a senate resolution, written by Sen. Jim Honeyford, recognizing the dealership for 100 years of business in Sunnyside.
The resolution reads, "The Washington State Senate thank(s) and congratulate(s) the Speck family and C. Speck Motors for providing 100 years of service to the Sunnyside area."
Speck Motors in Sunnyside, alongside companion dealerships Speck Hyundai and Hall Chevrolet Buick are taking this momentous occassion to thank their customers for 100 years of patronage with several special events this month.
For 100 hours, beginning Thursday, May 17, through Monday, May 21, the dealership will be offering additional customer discounts and specials.
Saturday, May 19, from noon to 7 p.m., Speck Motors in Sunnyside is set to host a customer appreciation event featuring a classic car display.
The company is also hosting 100 complimentary vehicle service inspections, Saturday, May 19, from 11 a.m. to 4 p.m. This event is first come, first serve.
In addition to the festivities, a prize will be given for the Chevrolet or Buick with the most miles on the odometer that is still running. The winner will be announced Monday, May 21, at 2 p.m. The winner will be displayed in the company's next newspaper advertisement and will receive a $100 gift card to the dealership's service department.
In addition, the Buick or Chevy owner will also receive a Speck 100-year heritage trophy.
There will also be 100 free apple pies given out to visitors at noon on Saturday during the event.
Other special events, as well as the history of the dealership, can be found at www.cspeckmotors.com.