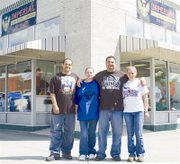 Finding a new business opportunity in the Sunnyside area was just what Jose Salas was looking for.
Keeping his mother, Betty Haberman, in mind, he says, was the driving force. Haberman has worked in fruit packing warehouses for as long as Salas can remember, and she means the world to him.
"I wanted to give her something else to do, to get her out of that environment and open a business she can be part owner in," he said.
So Salas and his wife Crystal set out to look for a local business that the two could run in tandem with a local collection agency.
Salas, a Sunnyside native, says he's an entrepreneur at heart.
"It's what I do," he said.
The couple began looking at purchasing a local screen printing business. But when prices didn't match up to budgets, they began looking out of town. The two had previously owned a party bus, and ended up trading that for a screen printing business out of the Tri-Cities. The couple uprooted the business to Salas' hometown of Sunnyside, and opened the Imperial Printing & Embroidery shop, May 1. The business is located at the corner of South Sixth Street and East Edison Avenue.
According to Salas, the newly opened company has already been well received by the community. The team of three owners and two employees has been working around the clock since the opening date to fulfill nearly 1,000 t-shirt orders.
"I had hoped to reach 1,000 orders after a few months of opening, but we are well on the way to meeting and exceeding that goal before the month's end," Salas said.
The company also provides embroidery work on t-shirts, polo shirts, sweatshirts and screen prints of any art the customer submits. The resident graphic designer can also custom design any apparel item the customer wishes.
Prices at Imperial range from $7 to $25 for apparel and an additional one-time screen fee.
For more information, contact Imperial Printing & Embroidery at (509) 836-0070.