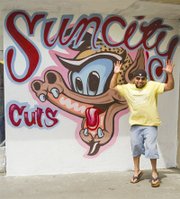 Growing up below the poverty line in Sunnyside wasn't easy for Eloy Hernandez.
But it made this 28-year-old all the more determined to be successful.
Growing up on a tight budget, Hernandez got his start cutting hair at a young age.
"I'm from a family of four brothers, and we didn't always have the money to get haircuts," he said. "So I picked (the skill) up."
After graduating Sunnyside High School, Hernandez worked several odd jobs until he finally decided enough was enough.
"I wanted to be my own boss, and have a way to give back to the community," he said.
With that determination in mind, he enrolled in Sunnyside's Shear Designs Institute of Cosmetology to learn to cut hair "the proper way."
Just a few months after graduation, he's now fulfilling his dream, becoming his own boss and opening his very own shop.
Sun City Cuts opens this week to the Sunnyside area public with affordability in mind. He says there's no need to pay $25 for a salon-priced cut. Though the quality is top-notch, Hernandez says he wants to "bring back the affordable haircuts."
"I'm going to charge $8 for men's haircuts and $12 for women's basic trims," he said.
In addition, he wants to give back to the area's youth.
"If a high schooler brings in an ASB card, they will get a discount," he said.
Sun City Cuts opened its doors earlier this month at 550 S. Fifth St. in Sunnyside.
The former tattoo shop needed a complete redesign and Hernandez enlisted a local artist to paint the outside of the building, along with friends and family who pitched in to finish the job.
Hernandez says he has room in the shop to bring in two more barbers or stylists. The shop will, however, continue to stay affordable.
Hernandez credits his supportive family for his recent success and a phrase that kept him going, "Don't let anyone stop you from your dream, because the sky is the limit."
He says the parlor will be open Monday through Saturday, from 10 a.m. to 6 p.m. But on-call after-hours appointments can be made by calling Hernandez at (509) 643-5206