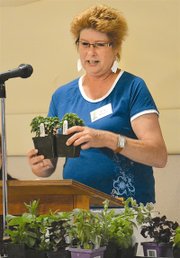 PROSSER - Not everyone living in the Yakima Valley knows just how well herbs grow in this climate.
That's according to Kelly Wiegers, owner of Natures Farm and Nursery in Prosser, who Tuesday spoke to those attending the monthly Lower Valley Christian Women's Connection meeting.
She talked about her business, which opened in 1996.
Wiegers grows a variety of culinary and medicinal herbs on her property located outside Prosser on Wilgus Road. She can be seen selling those herbs at farmers markets in Prosser and the Tri-Cities.
In addition to herbs, Wiegers sells uncommon perennials, heirloom vegetables, winter squash and pumpkins.
"We're not organic because I can't live without Round Up," she jokingly said, sharing she doesn't use pesticides on the plants she grows.
Of the herbs she grows, Wiegers said there are about 20 varieties of basil at Natures Farm and Nursery. She said there are 30 varieties in all, however.
"Basil is an annual and must be replanted each year...Rosemary, another popular herb, is a perennial," she said, stating a Rosemary plant can live several years.
Another perennial herb is Lovage, which is a member of the celery family. Wiegers said the herb provides foods with a celery flavor.
On her property, she also grows Epazote, popular for Spanish cooking; Stevia, a sugar substitute; Tarragon; Lavender; and other herbs.
Wiegers said herbs are best used when fresh, but they can be frozen for winter use. To do so, she suggests rinsing and drying the herbs on the stems. Place them on a cookie sheet and stick them in the freezer. After they are properly frozen, she said to break the leaves off and store the herbs in a ziploc bag.
A simple internet search for a specific herb, she said, can provide a variety of ideas for cooking and using them.
Wiegers said Natures Farm and Nursery is open from 9 a.m. to 5 p.m. Fridays and Saturdays. It is located at 4902 Wilgus Road.