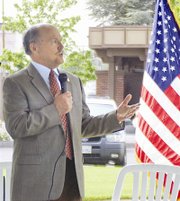 As a veteran himself, Washington state's First Gentleman, Mike Gregoire, knows all too well the importance of showing gratitude to United States veterans.
Coming home from the Vietnam War wasn't the warm welcome some would have hoped for, said the governor's husband. Since Gregoire has been part of the Governor's office for nearly eight years, his main focus has been to see and recognize as many veterans as possible.
That was Gregoire's goal this past Wednesday afternoon as he visited with several area residents near the Jerry Taylor Veterans Memorial Plaza on Ninth Street in Sunnyside.
Gregoire stopped off in Sunnyside on his way through Eastern Washington to attend the ex-prisoners of war convention in Yakima held last evening.
Also traveling around the state visiting schools, Gregoire spoke of his delight of youth's fascination, respect and intrigue with American veterans.
"It's just amazing; they really want to know the veterans' stories," he said.
Part of the state tour for Gregoire is outreach to local veterans, he said.
"It's good to honor those who've passed on, but we need to honor those who are still alive," he said.
He says many veterans fall through the cracks and don't receive the benefits they are entitled to, which is something he's working for during his wife's last year in office as governor.
Gregoire told the more than 30 people in attendance, including local dignitaries, that Sunnyside's effort to show tribute to those who have served the American people is "an impressive setting."
He said, too, that the enthusiasm in the Lower Valley to honor veterans is a sight to see.
"It's touching for veterans, well, for anybody really," he said.