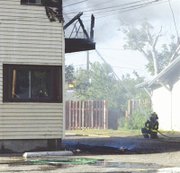 GRANDVIEW - Grandview Fire Captain George Saenz said as many as 14 residents were left homeless after their fourplex caught fire yesterday afternoon.
The structure fire was reported just after 6 p.m. in the 400 block of East Second Street and took firefighters from Grandview, Yakima County Fire District #5, Sunnyside and Prosser nearly two hours to contain.
The fire originated on a second-story balcony, according to Saenz.
He said the first engine company to arrive established a water supply and performed a knock-down of the fire on the exterior of the building.
"Fire had extended into both second-story apartments," said Saenz.
He said the fire crews were able to get inside to find extensive fire damage to one of the upstairs apartments. Some fire and extensive smoke damage was found in the second apartment on the second level.
Both first-story apartments, said Saenz, sustained water and smoke damage, but the majority of the contents in those two apartments were salvageable.
He said an investigation into the origin of the fire leads officials to conclude the fire started on the east side of the structure on the upstairs balcony where apartments A and D are located.
Interviews of the residents and witnesses, said Saenz, were consistent with the findings and the cause of the fire is believed to have been the accidental disposal of a cigarette not fully extinguished.
The owner of the apartment fourplex is Mike Tornok and the estimated value of the damage is $75,000.
A total of 28 firefighters and emergency personnel were at the scene that left East Second Street closed from Birch to Douglas streets.