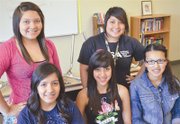 Six young ladies from Sunnyside's Sierra Vista Middle School are hoping to travel to Washington D.C. next year, but they need support from the community to get there.
The students are all eighth graders in Maria Garcia's U.S. history class and want to learn more about their nation's history through what they believe will be a first-hand experience.
Garcia said each of the students were required to write an essay or letter detailing their reasons for wanting to travel to the nation's capital.
"I feel it's important for students to learn about history up close and personal," said the teacher.
The students seeking the opportunity to take the trip, slated for the spring of 2013, include Yesenia Garcia, Elizabeth Garcia, Celeste Garcia, Breauna Magana, Karla Villanueva and Jennifer Nunez.
The six youngsters have raised approximately $450 per student through fundraising efforts this year, but need $2,100 each to afford the trip to Washington D.C.
Villanueva said, "I want to go on the trip to experience and learn about history, rather than just hear about it in class."
Elizabeth Garcia said she believes the trip will provide her the opportunity to visit national memorials, giving her tangible references to help her remember the significance of history.
"I'm especially looking forward to seeing the White House," she said.
Ms. Garcia said there is a possibility the students will be able to tour the presidential home because the group is smaller than other tour groups.
"I called and the person in charge said we will know the answer in September," she said.
Celeste Garcia said she is looking forward to visiting Arlington National Cemetery.
She said, "It's the largest veterans cemetery in the U.S. where many soldiers have been laid to rest."
Celeste also believes she will be provided leadership skills that will help her be a better role model for her peers. She believes those skills will be acquired through a greater knowledge obtained by learning about leaders of U.S. history.
Magana is interested in learning more about President Abraham Lincoln, one of the nation's most revered presidents. She said her interest was piqued as a result of the presidential election year.
Yesenia Garcia said the memories she will obtain from the visit to Washington D.C. will bring history to life for her, helping her remember the lessons that she had while in history class.
"I want to be able to experience the incredible feeling and emotion from actually being able to touch, see and feel these special and surreal places that I will be going to," she said.
"I don't want to let this opportunity pass me by," Yesenia Garcia continued, stating she believes it will be awe inspiring to stand in the place where Martin Luther King Jr. delivered his "I Have a Dream" speech.
Villanueva said she is most drawn to the possibility of seeing the Declaration of Independence, a document that "...birthed this astounding country."
She said she is inspired by the leaders who wrote the Declaration of Independence and wishes to learn more about them so that she might develop her leadership skills.
"Never have I had an opportunity like this, to really connect with my leaders...and have the chance to be a leader as fine as them," said Villanueva.
The Washington D.C. trip is sponsored by the WorldStrides DiscoverNow program and gives students across the nation the opportunity to learn about government and history through firsthand experiences.
The six Sierra Vista Middle School students will be students at Sunnyside High School when they embark for the nation's capital, but all feel it will be beneficial to their educational experience.
The young ladies have plans for continued fundraising efforts, including a Zumba-thon at either Sun Valley Elementary School or Sierra Vista Middle School in the near future.
There are also talks of hosting a dance.
Community members wishing to support the students can call Maria Garcia at 837-7068 or 836-8500.