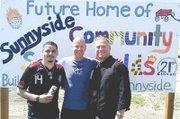 After inventor Richard Tait sold his widely popular game Cranium to Hasbro, he acquired a new found passion in the game of soccer.
After spending some time with Santa Maria Rivera, a Seattle Sounders player, Tait learned much of Rivera's life. Rivera's story of growing up in poverty in Michoacan, Mexico struck a chord with Tait, surfacing a desire to give back to those in similar situations.
That desire to give back led Tait to Sunnyside's Promise, and he began inquiring more about its programs and services provided to the Sunnyside community.
Last October he visited with Sunnyside's Promise Executive Director Mark Baysinger, learning even more about the organization's programs.
As Tait began learning more about the program, he found out about the organization's community soccer project. Hoping to have the soccer field ready by this coming August, Baysinger expressed the need for help.
Tait was motivated and inspired to help an area with a migrant population, and adding his new passion of soccer into the mix was the perfect match-up for Sunnyside's Promise soccer program, according to Baysinger.
Since the partnership formed last October, Sunnyside's Promise has received $15,000 from Tait, with additional donations from Yakima Valley resident Bill Dolsen of Cow Palace and Coke Distribution.
Dolsen and Tait work together, as Tait also created Golazo, a new energy drink that Dolsen's Coke business distributes.
Dolsen donated $5,000 worth of compost for the two soccer fields, located in a lot near the Sunnyside Law and Justice Center.
To further ready the fields for the August soccer season, Baysinger says he's applied for two additional grants, hoping to be able to supply the fields with four goals for the two fields, a striping paint machine, soccer balls, practice jerseys and player benches.
He says if all goes according to plan, the field will be ready to host "thousands of Sunnyside's youth" during soccer season beginning this August