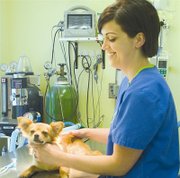 Sarah Bull wasn't planning on becoming a veterinarian assistant.
"I just fell into this job," she said. "And now I can't imagine doing anything else."
Bull was born and raised in Prosser and still lives there with her three dogs and two cats. She's engaged to be married. Asked if her future husband loves animals as much as she does, she said, "He's learning."
She went on to explain, "He grew up on a farm. To him a dog was a working animal."
Most of her family still lives in the area. She's the youngest of five children.
Four and a half years ago Bull got a job at Pet Health Clinic in Sunnyside and she's loved the job ever since.
"We can bring our pets to work," she said. "It has its challenges, just like any other job. I like to educate clients and help animals."
One hazard of the job is dealing with injured or neglected animals. The work can be tough, especially when an animal is too badly injured to save.
But there are also perks, as well. Seeing an animal improve is always a beautiful thing. And a year ago Bull adopted a stray poodle-mix that came her way.
All three of her dogs were strays or abandoned, including a Jack Russell Terrier named Barney and a Labrador named Sadie.
"I'm 100 percent sure you can find any dog you want in a rescue situation," she said. "I have two purebred dogs that were both rescues."
When she's not working, she enjoys running and reading. Her running partner is Sadie.
"We just completed a 5K run to benefit the humane society in Yakima," Bull said.
She also does volunteer work with dog rescues. Animals are a lifestyle for her, not just work.
Bull urges people to take care of their pets, including bringing them to the veterinarian.
"We're here for a reason," she said. "Don't hesitate to call if an animal is sick. That's what we're here for."