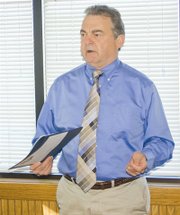 Efforts to deal with Yakima County's issues with water availability and gangs were the focus of presentations this morning, Friday, during a Sunnyside Republican Club meeting.
Yakima County commissioners Mike Leita and Kevin Bouchey were on hand for the discussion.
Leita shared an update on the Yakima River Basin Integrated Plan that is backed by local irrigators, the Yakama Nation, environmental groups, Yakima County, Kittitas County, Benton County and the state's Department of Ecology.
Leita said studies on the plan have been completed, with focus now on implementing it as funds become available. He praised Sen. Jim Honeyford of Sunnyside for his work to help free up $12 million in state funds to get the project started.
Leita said the first steps will include constructing a pipeline from Lake Keechelus to Lake Kachess. He noted Keechelus overflows and sends storage water back into the Yakima River and Kachess lacks enough water, so a pipeline between the two would provide more water storage and improve fish habitat.
Future plans include constructing a new dam at Bumping Reservoir to increase capacity and an off-channel water storage facility at Wymer on Lmuma Creek.
The plan, with a total price tag of $5 billion, also calls for water conservation steps.
Leita said the water situation is serious in Yakima County and Central Washington. He noted a moratorium imposed in upper Kittitas County to limit well development.
He also pointed to the difficulties experienced by junior water right holders, such as Roza Irrigation District. Leita said those with water rights dated before 1905 are able to draw the water they need, but those after 1905 - or junior water right holders - can be limited during drought years.
In 2006, for example, Roza irrigators were only able to draw 30 percent of their usual water allotment.
"We can't wait 10 or 20 years to do something," Leita said. "We can't afford to fall short."
Bouchey also brought a sense of urgency in his message about the county's gang situation and the impact it is making in the county's jail.
He praised efforts by Sunnyside, Toppenish and Yakima to work together on gang issues. Besides the county's first-in-the-nation gang court, Bouchey said efforts to deal with juveniles and first-time offenders at the local level will also be a benefit.
The gang issue, Bouchey says, means that the county's jail population has become more hardened.
Bouchey says 70 percent of the jail population is gang-affiliated. That means the pod or large grouping of inmates can lead to issues with gang-related fights.
In response, the county wants to "harden" its jail system, Bouchey said, and is seeking a one-tenth of 1 percent sales tax increase for the next 10 years to address security and safety improvements needed at the jail.
"We have a medium-grade jail and we need to harden it," he said.
If voters reject the sales tax increase this fall, Bouchey says the county will pull money from road funds and apply them to the jail.