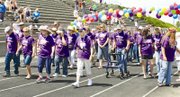 GRANDVIEW - The weather was perfect as a couple hundred people turned out last Saturday for the Relay for Life at Grandview's Rich Leenhouts Stadium.
Despite the promising weather, fewer people showed up this year than in the past, which made attendees lament the sparse crowds. Fewer people did not mean fewer events, however. The relayers kept busy with games, dancing and food along with the quiet walking.
This year's event had 24 teams with 317 registered walkers. The teams raised just over $56,300 for the American Cancer Society, a little short of the $76,000 goal, but fundraising will continue throughout the summer. Several teams have already registered for next year's event.
Kicking off the event were 54 survivors who walked the survivors' lap to the cheers of all attendees.
Many teams continued fundraising at the event, with booths selling items, including water and candy, and various raffles.
At dusk the luminaria ceremony started. The track was lined with the paper lanterns and the lights in the stadium were turned off as the names of those remembered were read.
The walking continued through the night, culminating after 24 hours with a closing ceremony at about noon on Sunday.